The King of Comedy 2011 competition, searching for new talented comedians for the stage, is being organized by Vietnam Television and will be aired on VTV3 channel in July.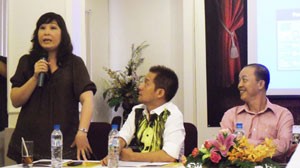 Members of the jury include actrees Hong Van (L), actors Minh Nhi and Duc Hai (R). (Photo: Tuoitre)

Contestants will be short-listed in Hanoi and Ho Chi Minh City by the end of July. The jury will then narrow down from one hundred selected contestants down to thirty, then fifteen and finally choose the winner.
Participants can contact Heart link-JSC at 9 Giap Nhat, Nhan Chinh, Thanh Xuan District in Hanoi; Hong Van Theater at Ả43 Truong Son Street in Tan Binh District, HCM City; or access website: www.vuahaidatviet.com or email: dangkyduthi@vuahaidatviet.vn for further information.