A Japanese traditional music group "Trinity" will hold a concert at the Hong Ha Theater in Hanoi from November 19-20, organized by the Japan Foundation Center for Cultural Exchange in Vietnam.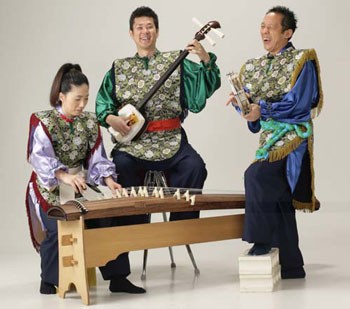 The Trinity
The Japanese trio will bring a fusion from Tsugaru folk songs to the Beatle classics to Vietnamese music lovers.

Formed in 2006, the group consists of three members including Chikudo Takahashi (Tsugaru Shamisen or a three-stringed Japanese traditional instrument like a lute or a guitar), Kei Wada (Percussions) and Miki Maruta (Koto or a Japanese harp). The trio released their first album "Trinity" in May 2009.

Chikudo Tahahashi is the last apprentice of renowned master Chikuzan Takahashi who established and spread the solo playing style of Tsugaru Shamisen. He collaborates with a wide range of musicians, and famous talented Tsugaru Shamisen, Okinawa Sanshin and Kokyu (a Chinese fiddle) performers.

Experienced percussionist Wada enjoys collaboration work with artists from various musical genres, while also engaging in direction and production of play accompaniments. Professional Koto player, Maruta can play various kinds of music from classical to contemporary.

Free tickets will be distributed at the Japan Foundation Center for Cultural Exchange in Vietnam, 27 Quang Trung Street, Hoan Kiem District, Hanoi.

In addition, a concert marking the 100th death anniversary of Gustav Mahler will take pace at the Hanoi Opera House on November 18-19.
The concert will be performed by conductor Tetsuji Honna and the Vietnam National Symphony Orchestra.
Gustav Mahler (1860-1911) was a Romantic Austrian composer and one of the leading conductors of his generation.

Ticket prices are VND150.000, 250.000, 350.000 and 450.000, available at the Hanoi Opera House, 1 Trang Tien.