Japanese Film Festival 2011, themed 'Love' will take place in Hanoi and Da Nang from October 20 to November 13.

Movies including Paradise Kiss (2011), Kamui (2009) The Milkwoman (2004), A Stranger of Mine (2004), Sawako Decides, Mai Mai Miracle, The Twilight Samurai and Waterboys, will be screened at the National Cinema Center in Hanoi from October 20-26, and at the Le Do Cinema in Da Nang from November 11-13 with English and Vietnamese subtitles.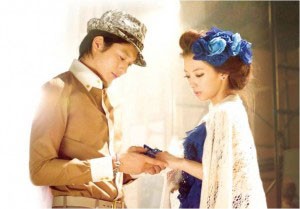 A scene in the movie "Paradise Kiss"
The selected films this year are all related to the theme of "Love."
The latest film Paradise Kiss (2011) depicts a gradual development of love between a handsome student of fashion design and a high school girl, while the action movie Kamui (2009) focuses on love for freedom. Both films feature stars, Osamu Mukai & Keiko Kitagawa, Kenichi Matsuyama (Norwegian Wood by Tran Anh Hung) & Koyuki (The Last Samurai), respectively.
In the film The Milkwoman (2004), an unmarried 50 year old woman holds on to her first love from high school over decades and the film quietly follows the unexpected turn after her encounter with her first love, a married middle-aged civil servant. A Stranger of Mine (2004) comically tells about pure love of a businessman who falls in love with a total stranger.
Almost all the selected films hold several awards not only from Japan but also in the world and all films have been highly acclaimed by critics.