The Japanese Cherry Blossom Festival 2014 will take place on March 8 and 9 at the Vietnam Exhibition and Fair Centre on Giang Vo Street, Hanoi.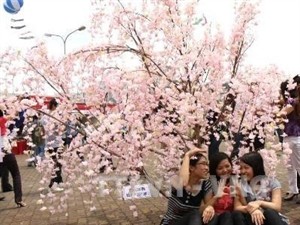 Cherry blossom festival 2014 is expected to lure more visitors to take part in (Photo: VNA)
Organised by the Japan-Vietnam Cultural Association Foundation, fresh cherry blossoms imported from Japan will be on display.
"Japan will organise the transportation of the flowers for the festival, and there will also be artificial plants to complement them," said Vu Khac Lien, head of the foundation.
The event will also feature traditional Japanese activities such as kendo and aikido martial arts, cosplay, folk games, traditional food and yosakoi dance performances by both Vietnamese and Japanese troupes.
"This year's cherry blossom festival will give visitors a new experience. This is a chance for people to find out more about the country, people and traditional culture of Japan, as well as strengthen the relationship between the two countries," said one of the organisers.
The first festival was held in Hanoi in 2007.