Italian and Vietnamese architects Masimo Alvisi and Nguyen Dinh Thanh won the first prize in the 'architectural contest.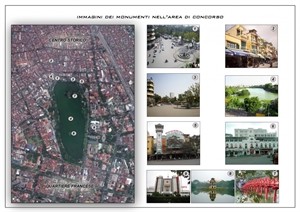 (Source: historical-hanoi2013.com)
The contest themed 'Restoration of Dong Kinh Nghia Thuc Square and Hang Dao Street in Old Quarter' aims to restore and preserve the Old Quarter of the capital.
The second place went to the 11-member team which included Vu Dinh Thanh, Nguyen Xuan Anh, Hoang Tan Truc, Ha Thi Bich Dao, Pham Minh Duc, Vu Thanh Cong, Grégoire Du Pasquier, Manuel Der Hagopian, Simon Pelletier, Do Quoc Hoan and Dao Le Hong My.
The third prize belonged to Italian and Vietnamese architects, Andrea Revello, Matteo Zambon, Nguyen Tran Linh and Pham Xuan Nghia.
Launched four months ago, the organizing board received submissions for architectural ideas for the Old Quarter in Hanoi from 52 Vietnamese and Italian architects.
The contest is part of the 'Italia-Vietnam 2013' program, co-organized by the Italian Embassy in Vietnam, the Vietnam Association of Architect, and the Genova Architect Association.