Accordingly, they joined a workshop held late last week in Hanoi to discuss sustainable designs and future architecture.

The event gathered many experts such as Italian Design Ambassador to Vietnam Aldo Colonetti, technician Luca Paioletti from the Ghella Construction Company, architect Duong Binh Thai from Exposure Architects Company and architect Takashi Niwa from the Vo Trong Nghia Architects Company.
Under the framework of Italian Design Day, a fashion show and workshop on creating a sustainable and environment-friendly fashion industry will take place on March 17-19 in Hanoi. Vietnamese and Italian designers will join the event.
The activities are part of an initiative of the Italian Ministry of Foreign Affairs and International Co-operation. Italian Design Day celebrates the globally acknowledged leadership of the "Made in Italy" label.
In 100 locations around the world, 100 "ambassadors" of Italian culture (designers, entrepreneurs, journalists and critics, as well as communicators and teachers) will participate in a panel discussion on Italian design's unique blend of factors, both material and immaterial, which have retained their distinctive features through the centuries despite a major overhaul by communications and mobility systems; creativity and originality; top-quality materials; and high-quality construction, as well as production processes that respect the environment, workers and end users and the highest quality packaging and advertising.
The culture of design in Italy began during the Renaissance and developed due to the influence of the schools of industrial design and artistic trends and followed diverse and innovative flows linked to territories and entrepreneurship. After World War II, Italian design symbolised the country's economic growth and became the leading element of Italy's industrial production.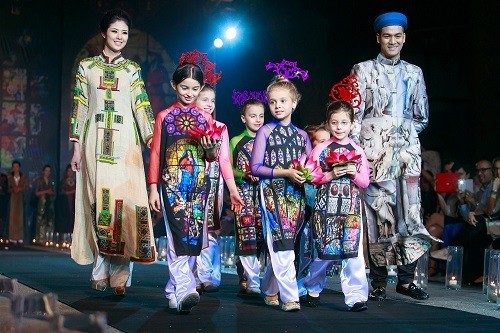 Miss Vietnam 2010 Dang Ngoc Han (left) and models present long dresses inspired by Italian culture during a fashion event last year. (Photo: baomoi.com)
Italian design has tangible and intangible features that have made it recognisable across the world for its original projects, the quality of materials employed, the manufacturing of these objects, the environmentally friendly production processes (considerate of those who work at them as of those who will use them), and the distinctive characteristics of its packaging and advertising, according to Italian Ambassador Cecilia Piccioni.
"Italian design combines the concreteness of traditional craftsmanship and the spirit of experimentation. By integrating the beauty of design into mass production, Italian design has fostered the coexistence of art and industry along a mutual development process," she said.
"Sustainability is a concern of both developed and developing countries. We selected 'sustainability' as the theme of Italian Design Day 2018 to celebrate the mutual understanding and diplomatic relationship between Vietnam and Italy."
Design Ambassador Colonetti said this year, the events target special techniques with the aim of creating products that are friendly to the environment and durable to use.
"That's the future trend," he said.
"People have known Venice as the city of canals, bridges and as a floating city. Venice is famous for its architecture, artwork and settings, where well-decorated wooden poles are used for traffic guidance. Recently, we recycled damaged poles (because they sink after standing in water for a long time) and restored them. The poles were redesigned to make furniture and other items."
Colonetti said this will be one of the stories he will share during the event in Vietnam to honour designers, craftsmen and workers who have joined hands to build a sustainable design industry for the future.