Israeli Film Week co-organized by the Israeli embassy in Vietnam and the Hanoi Cinema Club is being held at the Hanoi Cinema Club in Hanoi from February 21 to 25.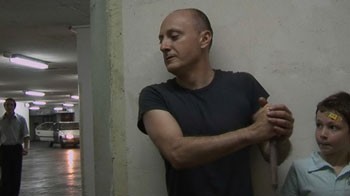 A still from Foul Gesture (file)
The film week will bring to local audiences five films including Foul Gesture, Aviva My Love, Kadosh, Pick a Card and Passover Fever.

The film "Kadosh" tells about prejudice and strict fanatical rules that lead unfortunate women into unhappy marriages. It was one of the nominees for the Golden Palm Award at the Cannes Film Festival in 1999.

"Foul Gesture" is based on the life of Michael Klienhouse, a jobless writer who struggles with a personal crisis and bureaucracy in search of justice.

The film received the best picture award at the 2006 Haifa International Film Festival in Israel. It also won the FIPRESCI (Federation Internationale de la Presse Cinematographique) award and a Special Mention at the Miami International Film Festival. It was also awarded with an Outstanding Award in the Third Eye Asian Film Festival in Mumbai.

Tzahi Grad, the Israeli director of "Foul Gesture" will have an exchange with movie lovers at Hanoi Cinémathèque on February 22.

The films will be shown in Cinematheque, 22A Hai Ba Trung Street, Ha Noi at 7pm and 9pm during the week. Entrance is free.

Israel Film Week has been held biannually since 2007.