Superhero sequel "Iron Man 2" is eyeing a box office assault on Batman on Friday as Hollywood's summer blockbuster season gets under way aiming for another record-breaking year.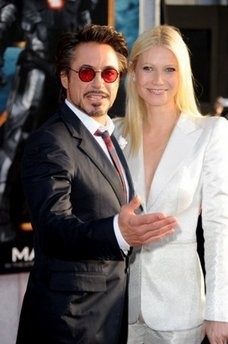 Actors Robert Downey Jr. and Gwyneth Paltrow are seen at the world premiere of Paramount Pictures and Marvel Entertainment's 'Iron Man 2 held at El Capitan Theatre on April 26, in Hollywood, California.

A follow-up to 2008's surprise hit "Iron Man," the Marvel franchise about a billionaire arms-dealer-turned-crime-fighter, played by Robert Downey Jr, is tipped as an outside chance to set a new opening weekend record.
To do so, "Iron Man 2" would need to depose Batman blockbuster "The Dark Knight," which earned 158.4 million dollars on its North American debut in 2008 as fans flocked to see the late Heath Ledger in his final full film role.
Jeff Bock, chief analyst at Exhibitor Relations box-office tracking firm, said he believes "Iron Man 2" could run "The Dark Knight" close.
"It's the question everyone is asking," Bock told AFP.
"'Iron Man 2' is not only the first out of the gate for blockbuster season but it's probably the most anticipated film of the summer as well.
"We may be talking about the biggest box office opening in history if it can knock that bat out of the belfry. It's definitely going to be close."
Films adapted from superhero characters such as Spider-Man, The Incredible Hulk, Wolverine and Batman have become a staple of Hollywood's summer season in recent years as studios seek to exploit franchises with a built-in audience.
However "Iron Man 2" is a rarity this year because it is the only superhero film of the summer, Bock said.
"Superhero films have taken over from sequels as the biggest thing in Hollywood," he said. "In that sense, it's a good time to be in the 'Iron Man' business. The timing is set up perfectly."
"Iron Man 2" is one of only a handful of films to be released this summer which has a realistic chance of breaking the one-billion-dollar barrier, according to Bock.
Among the other films expected to do big business is Dreamworks Animation's "Shrek Forever After," hyped as the last installment in the films about a lovable green ogre, and "Toy Story 3," the long-awaited "threequel" of the successful Pixar Animation films.
As ever, sequels and remakes are expected to drive the earnings over the summer. As well as the "Iron Man," "Shrek" and "Toy Story" films, upcoming films include "Sex and the City 2," based on the popular HBO television series, "The A-Team" and "Predators," an action film inspired by the science fiction franchise about dread-locked aliens first launched in 1987.
Other highlights of the summer include the screen return of Julia Roberts in "Eat, Pray, Love," and the action movie "The Expendables," which reunites Sylvester Stallone and Dolph Lundgren in a tale about mercenaries attempting to overthrow a South American dictator.
One of the most talked about films of the year is "Dark Knight" director Christopher Nolan's science fiction thriller "Inception," starring Leonardo DiCaprio and due for release in July.
"'Inception' has a lot of mystery surrounding it," said Bock. "We all know that Christopher Nolan makes amazing films. It sounds like it is going to be a great summer movie."
Last year, the summer box office season -- which stretches from May to early September -- earned a record 4.17 billion dollars although overall ticket sales decreased by 4.2 percent compared with 2008.