The third International Circus Festival will kick off today at Central Circus Theatre, Hanoi, marking the 1,000th anniversary of Thang Long – Hanoi, aiming to advertise the Vietnamese circus arts to foreign partners.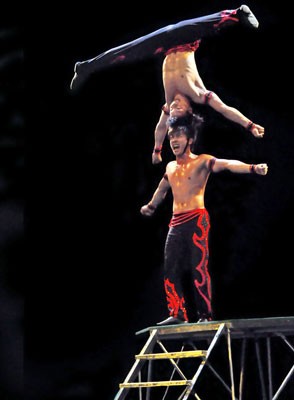 A circus performance by brothers Quoc Co and Quoc Nghiep
The festival also aims to enhance cooperative cultural and artistic relations between Vietnam and other countries, said a representative from Vietnam Circus Federation.
The festival, organized by the Ministry of Culture, Sports and Tourism and the Vietnam Circus Federation, will include the participation of troupes from Germany, Russia, China, Ukraine, Laos, Cambodia, Cuba, and Mongolia in addition to host Vietnam.
Five Vietnamese troupes hailing from Hanoi, Ho Chi Minh City, Vung Tau, Quang Tri and the Vietnam Secondary School of Circus Art will perform at the festival.
Entertainers from Ho Chi Minh City include Bao Ngoc who will perform Tung hung (Juggling magic), and brothers Quoc Co and Quoc Nghiep, who will perform Suc manh doi tay (power of hands).
Ngoc said this is a chance for Vietnamese artists to learn about circus art from around the world, which will help local artists to develop their performances.
The circus Suc manh doi tay performed by brothers Quoc Co and Quoc Nghiep won the gold medal at the Young Circus Artist Festival which included troupes from Vietnam, Laos and Cambodia and was held in Hanoi in 2009.

The five-member jury board will include Gao Yue, director of the International Performing Arts Festival Agency in China; Peter Dubinsky, President of American Firebird Productions; Genish Matabosch, artistic director and executive producer of the International Circus Festival City of Albacete, Spain, Vu Ngoan Hop, director of the Vietnam Circus Federation and Vietnamese People's Artist Nguyen Thi Tam Chinh.

The organizing board will award gold, silver and bronze medals and certificates to the winning artists. The most acclaimed performances will be featured in the final gala program.

The festival runs through August 11.