The Huong Tich Pagoda Festival opened on February 5 and will run until March. The event is located in the Thien Loc Commune in the Can Loc District, Ha Tinh Province.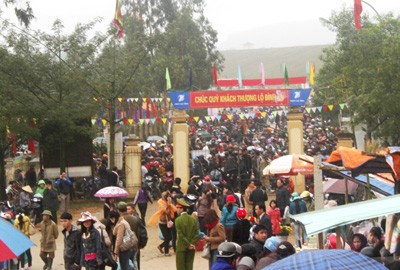 Pilgrims flock to Huong Tich Pagoda

The festival features traditional cultural activities and folk games.
Over 10 thousand pilgrims in Ha Tinh, Hanoi, Hai Phong City, Nghe An and Thanh Hoa provinces visited the pagoda and paid respects from January 31 to February 4.
Prices for boats and tramcars are VND 10,000 each and a cable car ticket is VND 140,000 each.
The festival attracted nearly 200 thousand local and international visitors in 2013. The event is expecting to see a 200 percent increase of visitors this year, according to the event management board.

Huong Tich Pagoda was built during the Tran Dynasty in the 13th century at 1,000 meters above sea level. The pagoda was heavily damaged by fire in 1885 and was rebuilt in 1901.

The pagoda was recognized as national historical and cultural relics in 1990.

Ha Tinh Province destinations include historical sites such as Nguyen Du and Dong Loc T-Junction, Cho Cui Temple, Tien Son complex and Ke Go. The province also hosts exhibitions showing relics of past Party General Secretaries Tran Phu, Ha Huy Tap and Le Duan.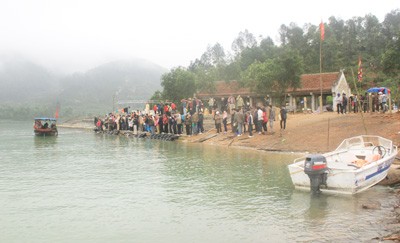 Visitors enjoy boat trip in Huong Tich Pagoda