The Viet Nam Railways Corporation has given the organizing board of the Hue Festival 2008 official permission to promote the cultural event on its trains.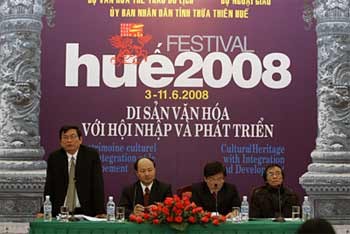 The press cpnference of Hue Festival 2008 is organized in Ha Noi in January.
Thousands of brochures and CDs will be given to passengers free of charge on the trains and at the stations, including Sai Gon, Ha Noi and Hue.
In addition, information concerning the festival will be presented in the railway's magazine. Several panels advertising the cultural show will be put up at the Hue train station.
The local and foreign art troupes who take part in the festival will have a chance to enjoy a fare discount of 20 percent; 30 percent for freight charges. There will be additional trains to Hue during the biennial art festival, according to the railway.
This year's festival will have the theme "The Cultural Heritage with Integration and Development" and will take place from June 3-11. It will showcase the cultural values of Hue and Viet Nam through hundreds of art performances such as musical plays, circuses, street art, and installation art.

There will be more than 27 art troupes from Europe, Asia, Africa, North and South America, according the Thua Thien-Hue Province People's Committee.