The closing ceremony for the Hue Festival 2014 was held on the bank of the Huong River on April 20.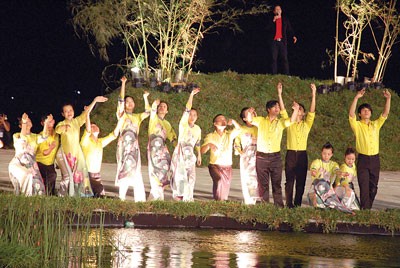 A special art performance in the closing ceremony (Photo: Sggp)
An art troupe from Bong Sen Traditional Song and Dance Theater, the Phong Lan Group, and art troupes from Singapore, the Philippines, and Malaysia performed at the ceremony.
The festival was an impressive, friendly, safe, and humane event, said Standing Deputy Chairman of the province's People's Committee Ngo Hoa. He was head of the festival's organization board.
The ending ceremony's art performance featured central Vietnamese culture. Thousands of locals and foreigners flocked to the region to experience various events.
The event hosted 100 shows by more than 66 domestic and foreign art troupes from 37 countries and territories worldwide.
The festival attracted about 2.4 million participants. It received over 100,000 foreign visitors from 115 countries and territories worldwide.