An annual contest entitled Master of Ceremonies (MC) will be held in mid-August by the Ho Chi Minh Television Station and Cat Tien Sa Company.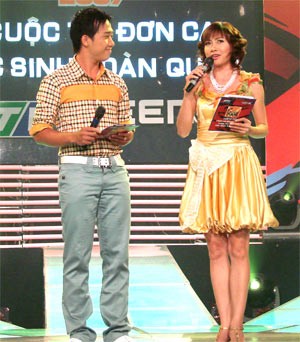 MC Tran Thanh (L) and MC Ngoc Tien (R) will participate in the contest with the role as contestants
Male contestants must be between 18 and 30 years of age while female contestants must be 18-28. Men must be at least 165 cm tall and women must be at least 158 cm tall. In addition, all contestants must be high school graduates. 
The contestants must know at least one foreign language and have a desire to become a professional MC. 
The contestants will have to prove their talents during a three-minute talk show. They must be confident and have the knowledge needed to pass an interview with the jury in the qualifying rounds.  
The contest will hold three qualifying rounds on August 18 and 19 to select about 80 contestants for a further round on August 20, when the number will reduced to 24.   
The contest will take place in the HTV Theatre. 
The semi-final and final rounds will take place from August 27 to September 15 at the HTV Theatre and the Hoa Binh Theatre.   
The first prize is entitled "Golden Swallow" and is VND 30 million (US$1,800). The second prize is entitled "Silver Swallow" and third prize "Bronze Swallow." These are worth VND 20 million (US$1,200) and VND 10 million (US$590) respectively. 
The contest also has prizes entitled "The Most Emotive Voice" and "The Favorite Contestant Voted by the Press." These prizes are worth VND 5 million (US$300) each.