One of Hollywood's greatest film instructors is currently in Ho Chi Minh City for a filmmaking course at the Institute for Cultural Exchange with France (IDECAF), to be held from July 27-29.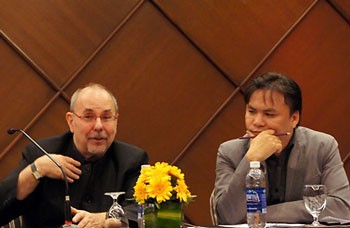 Hollywood's greatest film instructor, Dov Simens (L) in a press conference in HCM City onJuly 24. (Photo: Vnexpress)
Dov Simens is well known worldwide for his 2-Day Film School, giving you the maximum filmmaking information in the shortest period of time.
Simens will focus on movie production planning, the Hollywood formula for writing movies, how to look for capital for film making, bringing movies to international film fests and selling pictures.
Local well-known insiders such as directors Viet Linh and Pham Hoang Nam, actress Hong Anh, actor Tran Bao Son, photographer Le Thanh Hai, singer Hong Nhung will join the course.
Simens can boast of many famous students such as directors Quentin Tarantino and Chris Nolan, actor-producer Will Smith and the King of Pop Michael Jackson.
He has taught in more than 18 film universities and institutes around the world likely USC (University of Southern California), NYU (New York University), UCLA (University of California in Los Angeles) and was voted as "the No1 Film Instructor" by the US National Association of Film Schools.