The central city of Hoi An will promote the use of bicycles this year as part of a plan to build the city into the first eco-city in Vietnam.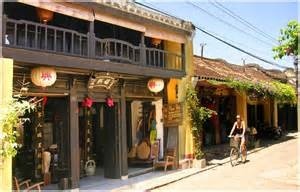 (Photo:VNA)
Vice Chairman of the municipal People's Committee Truong Van Bay told Vietnam News that the city has launched a series of programmes on environmental protection to be used as tourism attractions.
Further, the bicycle has been selected as the favourite vehicle for tourists visiting destinations in the city, suburbs and beaches.
"We encourage local people to use more environmentally friendly vehicles, such as bicycles and battery-powered bicycles, and to walk as they carry out their daily activities in order to keep the city clean and healthy. The city has gradually limited the use of motorbikes in old quarters, prior to banning motorbikes in these areas," Bay said, adding that motorbikes are only permitted for use at lunch time.
"Since 2002, the city has successfully operated a pedestrian street in the old quarter and hosted Nature Day for the past four years," he says.
According to Nguyen Van Hien, head of the city's natural resources and environment office, bicycles are now used by most women and children in the city.
"They (women and children) prefer riding bicycles to markets and schools, and around the city downtown. The old quarter is almost quiet with pedestrians and bikes during the day," Hien said, adding that evening and night time is only for pedestrians traveling in the old town.
Reiko Usuda, a Japanese woman who has lived in the city for four years, said the environmentally friendly vehicle is her daily means of transportation.
"It's easy to ride on bicycles while touring around the old quarter or buying something from the market. As the radius from the city's downtown to destinations is under 5km, bicycle helps save money and provide a healthy lifestyle," Reiko said.
Most foreign tourists use bicycles while touring the city, beaches and villages during their visits to Hoi An city.
The People's Committee plans to promote bicycle use among public agencies on Car Free Day in March before boosting their use among local residents.
"Changing a habit of using motorbikes needs time. The city will target using 100,000 bicycles among local people," Vice Chairman Bay said.
The ancient city has been the first city in Vietnam hosting a Car Free Day, in an effort to make the environment cleaner in the tourism hub.
It has also launched an action programme to stop using plastic bags and the 3-R (reduce, reuse and recycle) programme.
Last year, this UNESCO-recognised world heritage city debuted its solar power public lighting system along the city's Hoai River Square.
Also, Hoi An has been chosen for the 2013 Townscape Award by the UN-Habitat Regional Office in Asia.