The annual festival named after the most beautiful flower in the region, hoa ban, or the orchid trees, will feature cultural life in the north and northwestern region, home to about 19 ethnic minorities including Thai and Mong people.
Held by the Điện Biên Province's People's Committee in co-ordination with the provincial Department of Culture, Sports and Tourism, it will go along with the sixth Điện Biên Cultural, Sports and Tourism Day to celebrate the 65th anniversary of the glorious Dien Bien Phu Victory (May 7, 1954 — May 7, 2019), 110th anniversary of the establishment of Dien Bien Province (June 28, 1909 — June 28, 2019 ) and 70 years of establishing the provincial Party Committee (October 10, 1949 — October 10, 2019).
Organisers said this year's event will contain new programmes compared to previous years with a series of art performances and exhibitions to take place at the same time with sports and games activities.
The organising committee announced an opening ceremony will be held on the May 7 Square and followed with a street parade so that guests and tourists who visit the province on the day could join in the festive atmosphere with local people.
A book and photo exhibition featuring traditional culture of Dien Bien's ethnic groups is expected to go along with a series of art performances including folk singing and dancing.
A beauty contest, the Miss Hoa Ban, will also be held with the participation of candidates from eight northern and northwestern provinces of Dien Bien, Lai Chau, Son La, Hoa Binh, Yen Bai, Lai Cai, Phu Tho and Ha Giang to present their traditional costumes.
Organisers said they planned to invite Miss Luang Prabang from Laos to perform at the event as a way to promote cultural and tourism exchanges and introduce the region to the country of Laos.
The first Hoa Ban Festival was held in Dien Bien Province in 2014 with the aim of preserving and promoting the cultural values of ethnic groups and introduce the image of the province with orchid trees as the symbol of the northwest region of Vietnam.
After five years, the festival has now become the unique historical cultural and tourism brand of the land which saw the Dien Bien Phu Victory over French invaders.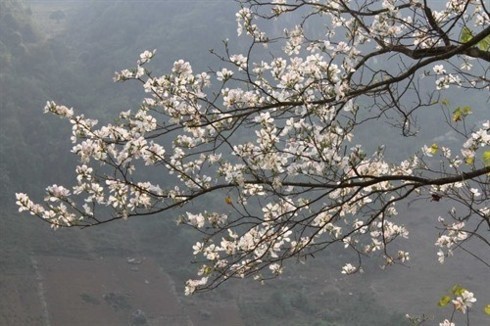 Hoa ban (orchid trees) the very popular spring flower in the northwestern region of Vietnam. (Photo: vov.vn)