Eighteen television performers from several countries are in Ho Chi Minh City for a TV program titled "Duyen dang truyen hinh (Charming TV employees) ASEAN TPHCM 2009."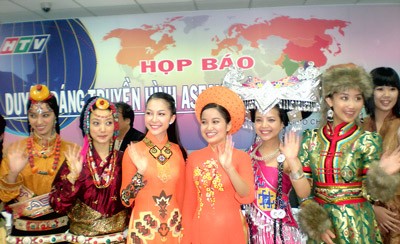 TV personalities from ASEAN member-nations wave to the media in HCMC on May 26. They are here for a program by Ho Chi Minh City TV and China's Guangxi TV. (Photo: SGGP)
It is being organized by Ho Chi Minh City Television and China's Guangxi TV.
The women from Thailand, Laos, Cambodia, Brunei, Indonesia, Malaysia, Myanmar, the Philippines and Singapore, two others from Vietnam, and five guests from Guangxi Province will participate in several activities from May 26 to 29.
On May 26 they paid some visits to historical and tourist sites in HCMC like Ben Thanh market, the Post Office, Reunification Palace, and the Ho Chi Minh Museum.
On May 27 they will visit a village making rice paper in Cu Chi district and an embroidery factory of well-known designer Viet Hung, and enjoy local food and drink.
On May 29 the women will give performances in a cultural exchange concert titled "Thieu nu va luy tre lang" (Young girls and the village's row of bamboo trees) at the Dai Nam tourism complex.
Of the 23 performances scheduled, seven will be by the hosts, including playing traditional instruments like dan da, trumps, and phach and singing traditional music like a dao, cheo and cai luong.
Dancer Linh Nga will perform a dance, "Dao lieu" (The fate of a woman), and Hong Phuong will sing a folk medley titled "Mua xuan va the he tuong lai" (Spring and the future generation).
The show will be broadcast live on HTV9, HTVC, and BTV. Guangxi TV will later carry the full show.