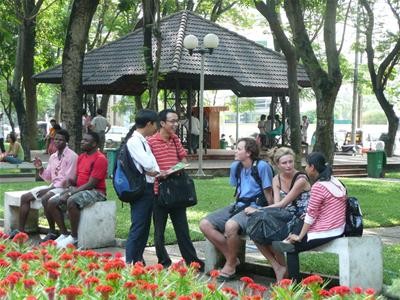 A corner of September 23 Park (file photo)
The sixth annual Ho Chi Minh City Tourism Festival is set to take place April 8-11 in the city's September 23 Park, just a few steps from Ben Thanh Market in District 1.
The free event promises a host of exciting activities aimed to promote tourism in HCMC, said the municipal Department of Culture, Sports and Tourism on March 30.
During the festival, the city will introduce tourist services and summer programs offered by local travel agencies, including several promotions for domestic and foreign air travel.
An array of dynamic art performances will also be showcased throughout the event.

The festival is organized by HCMC's Department of Culture, Sports and Tourism in coordination with the municipal Tourism Association.

In related news, according to Vietnam Airlines, many foreign carriers have recently submitted applications to open new routes and increase flights to Vietnam.
Malaysia Airlines, for instance, will increase flights between HCMC and Kuala Lumpur from 14 to 20 flights per week. The change is expected to start March 31.

Qatar Airlines, meanwhile, said it will increase Airbus 330 flights from HCMC to Doha from four to seven flights per week and will open a direct route from Ha Noi to Qatar soon.

Earlier, Taiwan's Transasia Airlines had opened a direct route between Da Nang and Taipei with two flights per week.
Transasia is the second foreign airline to offer direct flights to Da Nang after Singapore's Silk Air.