A charity music concert titled "Legendary night" will take place at Hoa Binh Theater in Ho Chi Minh City April 2-5 to establish a fund for poor credited people.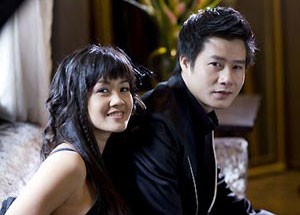 Singers Hong Nhung (L) and Quang Dung will take part in the concert.
The fund will help underprivileged families to start small businesses, build homes or otherwise fight poverty.
Famous local singers including Huong Lan, Elvis Phuong, Cam Van, My Linh and more will present traditional songs as well as some of their latest works.
The performance will also pay tribute to legendary Vietnamese figures such as Au Co-Lac Long Quan; Thanh Giong; and Hai Ba Trung, two famous Vietnamese heroines; and soldiers who fought in the Dien Bien Phu victory.
Throughout the show, audiences will be treated to an array of intricate Vietnamese costumes worn by leading models in the country.
The concert also marks the 1,000th anniversary of Thang Long-Hanoi and the 35th anniversary of the first edition of Sai Gon Giai Phong newspaper.
Donations to the fund can also be made at SGGP's office headquarters at 203 Phung Hung Street, District 5, HCMC.