HCMC theaters are involved in their usual race to produce interesting plays for Tet and aficionados have already began to buy tickers at their favorite theaters though there are still 10 days to go for the New Year.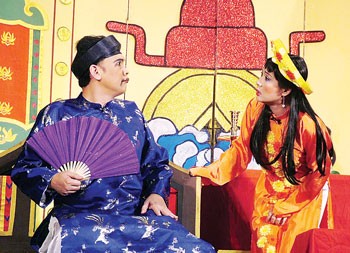 IDECAF's actor Huu Chau and actress Thanh Thuy in a scene of the play Quan Thich thich lam quan
IDECAF run by Huynh Anh Tuan does not have enough tickets to go around though it will stage three plays daily.

People normally choose plays based on their directors and actors and IDECAF can boast of some top draws like Thanh Loc, Huu Chau, and Thanh Thuy.

Mr. Tuan said besides the highly successful Sat thu hai manh (Bikini killers), three other plays -- Quan Thich thich lam quan  (Quan Thich likes to become a mandarin); Đua voi bong (Joking with the shadow); and Lung nguoi trong mong (Looking for a sweetheart) – would also be staged.
Lung nguoi trong mong is considered a sequel to Sat thu hai manh written by famous writer Le Hoang.

Another popular theater, Phu Nhuan, is selling tickets for three plays, namely Thay re (Changing son-in-law), Chuyen chung cu (Tales from an apartment building), Ky nghe lay Tay (Skills needed to marry foreigners). The last, directed by Hong Van and Minh Hoang, is widely expected to be the theater's biggest hit this year.

Hong Van will also organize two plays at Kim Chau theatre -- Ngoi nha hoang (Desolate house) and Tien oi la tien (Oh, my money!) directed by Trung Dan.

New theaters, new plays

Some new theaters, like Theater No.179, Ben Thanh, and Giac Mo Hong (The pink dream), which will be exclusively for children, are set to open in the city before Tet.

At the Theater No.179, actor Trong Phuc and Hoang Anh Ltd will introduce their first play Sau luy tre lang (Behind the bamboo hedges of the village) written by Lam Tuyen and directed by Dang Minh.

Ben Thanh will stage Sui Gia Dai Chien (The battle between in-laws families) produced by Gia Bao, grandson of famous thespian Bao Quoc. The play, a musical, will also feature well-known actors like Bao Quoc, Ngoc Giau, Hong Nga, Kim Ngoc, Trung Dan, Tieu Bao Quoc, Huynh Dong, Hieu Hien, Phu Hai, and Phuong Dung. It will be directed by Tran Ngoc Giau

Children are also in for a treat during New Year.

Giac Mo Hong Theater will present gala Xu so than ky (Wonderland) and skit Nguu Vuong dai nao nhan gian (Buffalo demon king disturb the earth), written by Bao Dung and directed by Le hay and Minh Phat.

The gala will be performed on the first seven days of the new year at HCMC Circus, Pham Ngu Lao street. Taking part in it will be comedians Nhat Cuong, Ngoc Trinh, Bao Tri, Mai Dung, Tan Beo, Tan Bo, Anh Vu, and Huy Cuong and stuntman Dung Thinh.
Tran Huu Trang Cai Luong Theater will present dramas at Hung Dao Theater from January 26 to February 9.
The troupe would also tour Phu Quoc Island on January 28 and 29, the theater's director, Quoc Hung, said.

Its main actors, Thanh Hai, Duong Thanh, and Le Tu, and actresses Thoai My, Thy Trang will also perform in the US from January 27.