The People's Committee of Ho Chi Minh City has approved the planning of the Ho Chi Minh City Museum of Natural History, according to scientific professor Ho Uy Liem, deputy chairman of the Viet Nam Union of Science and Technology Association, at the international conference for developing a Museum of Natural History in HCMC yesterday.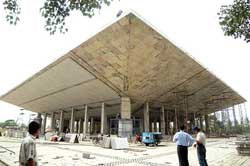 The Vietnamese Ethnic Minorities' Cultural Park is under construction.
Accordingly, the museum will cover on an area of 30 hectares in sector 4 of the Vietnamese Ethnic Minorities' Cultural Park in District 9.
It will house more than five million objects and documents displayed over 9,000 square meters. The museum, with an investment of around US$100 million, is expected to be completed in 2013.
The Vietnamese Ethnic Minorities' Cultural Park is responsible for site clearance, building planning, and operating the museum.
Meanwhile the Association of Science, Service, Technology, and Manufacturing is calling for more investors to get involved in the project and is supporting the search for specimens (both living and dead) for the museum.