The sixth annual Ho Chi Minh City Book Fair will this year feature more than 200,000 new publications and a staggering 20 million copies of books.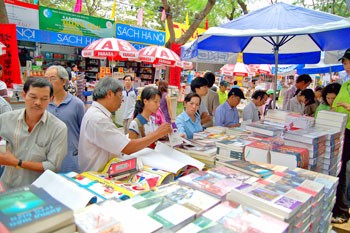 HCMC Book Fair attracts thousands of readers. (Photo:Sggp)
The fair, the largest of its kind in Vietnam, will see participation this year of more than 150 local and domestic enterprises with more than 470 display booths at the city's Le Van Tam Park in District 1.
The week-long event, running from March 15-21, also offers a chance for local and foreign publishers from France, Germany and Spain – as well as writers and the public – to meet and discuss literature.
Renowned Italian writer Alessandro Baricco, author of the book "Silk," is set to attend the festival to hold a discussion with Vietnamese readers.
In addition, First New Publisher will introduce the book "Establishing a Career with Bare Hands" by Thai billionaire Vikrom Kromadit who will also be on hand to discuss his work.
Mr. Kromadit, CEO of Amata Corporation Public Company Limited, is ranked Thailand's 34th richest person with a net worth estimated at US$145 million.
Also attending the festival, Eran Katz, holder of the Guinness World Record for Memory, will speak on how to develop good memory skills.
Local writers including Bich Ngan, Ta Thi  Ngoc Thao, Nguyen Nhat Anh and journalist Pham Thanh Long, meanwhile, will hold a discussion for Vietnamese book lovers. 
This year's event will also feature two seminars on detective literature and Tet (lunar New Year) holiday books, in addition to several other exhibitions and attractions.