The Consular Club's Charity Art Auction raised over VND200 million in an charity auction in Ho Chi Minh City last week, said the club representative on Tuesday.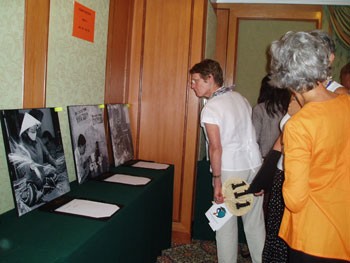 Visitors enjoy photographs in the auction in HCM City on March 12. (Photo: Huynh Thao)
Themed "Buying art to make a difference," the auction showcased nearly 100 paintings, decorative art, and photographs by local Vietnamese and expatriate artists. Both professionals and amateurs, all who share a commitment to support communities across Vietnam, contributed to the event.
Heleen Schellaars –Van Berkel, president of the Consular Club, said "With this year's auction we aim to extend our reach, and deepen our impact to improve the lives of disadvantaged people in Vietnam."
The club says all proceeds from the annual event go to charity projects and that by utilizing volunteers, no money is lost in administrative costs.
In 2009, the Charity Art Auction sold 97 artworks, including paintings by well-known local artists such as Do Hoang Tuong, Tran Thuy Linh, and Nguyen Than.
Last year's auction also contributed to the over VND1 billion raised by the Consular Club in 2009. These funds have already benefited 20 charitable projects, according to the club.