Along with the night market on the Hang Dao to Dong Xuan pedestrian route, Hanoi will have a cultural cuisine ward in the Old Quarter with special provision for pedestrians.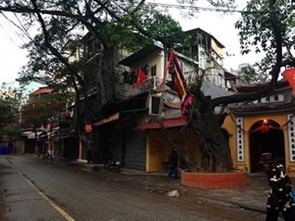 A street of Hanoi old quarter
Dedicated walking paths will be expanded to Hang Buom, Ma May, Hang Giay, Luong Ngoc Quyen, Ta Hien and Dao Duy Tu from the Old Quarter's core, according to Do Xuan Thuy, Director of the Dong Xuan Joint Stock Company, which was selected to carry out the project.
The expanded walking trail currently boasts many Hanoi treasures, such as architectural works from the 18 th -19 th centuries.

Prominent are historic sites such as Bach Ma temple, Quan De communal house and Huong Tuong temple, an ancient house at 87 Ma May street.
The ancient streets are also well known as a home of Hanoi specialties, such as preserved fruits, confectionery, rice and pork paste, shrimp cakes and fried noodles.
Thuy said development of restaurants and food outlets along the streets with diverse types of dishes had partially met the demand of tourists, especially foreigners.
He expressed his belief in the project because his company has eight years of managing the Hang Dao to Dong Xuan night market on weekends.
Formed from the early 15th century and boasting a total area of 81 hectares, the Hanoi Old Quarter in Hoan Kiem district has a boundary of Hang Dau street in the north, Hang Bong, Hang Gai, Cau Go and Hang Thung streets in the south, Tran Nhat Duat and Tran Quang Khai streets in the east and Phung Hung street in the west.
The quarter gathered residents with small handicraft and trade activities, forming specific craft streets. With the unique architecture of 121 historic sites and nearly 1,100 old houses, the quarter is the favourite destination of foreign tourists.