Photos taken at important milestones during the 40-year cooperation and friendship between Vietnam and Japan are on display at the Vietnam News Agency (VNA) headquarters, on No. 5 Ly Thuong Kiet street , in Hanoi .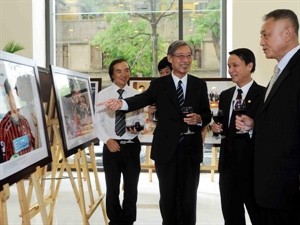 VNA General Director Nguyen Duc Loi and Kyodo News Agency Chief Editor Masaki Fukuyama (second and third right) at the exhibition. Photo: VNA
The exhibition, the first jointly organised by VNA and Japan's Kyodo News Agency, will stay open until November 14.
Addressing the opening ceremony, VNA General Director Nguyen Duc Loi and Kyodo News Agency Chief Editor Masaki Fukuyama underscored that the exhibition is a highlight in a series of activities to celebrate the 40 th anniversary of diplomatic ties between the two countries.
They expressed their hope to continue beefing up the effective cooperation between the two news agencies in the future.
The 80 typical images showcasing at the exhibition are divided into two parts. The first, including photos taken by VNA reporters, vividly depicts Vietnam-Japan ties over the past 40 years in all fields, ranging from politics, economics, culture, education, to science and technology.
The photos taken of visits by national leaders and important joint economic, investment and cultural activities of the two countries, give visitors deep insights into the increasingly stronger ties between the people of Vietnam and Japan through historical periods, laying firm foundations for the Vietnam-Japan strategic partnership.
On display at the other part of the exhibition are photos taken by Kyodo News Agency's reporters, which introduce the nation and people of beautiful Japan with Fuji Mountain and various traditional festivals.
According to the organising board, a similar one-month exhibition will be jointly held by the two sides in December this year in Tokyo, displaying photos on Vietnamese nation and people taken by VNA reporters./.