The first children's international theater festival will begin on May 24 in the Hanoi Opera House with seven overseas and domestic theater groups taking part.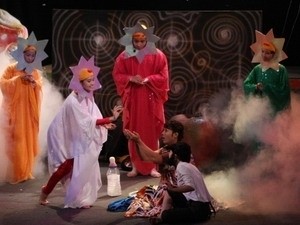 Adrama performed by overseas theater groups  will be served in the festival
The program has been co-organized by the Ministry of Culture, Sports and Tourism and the Vietnam Stage Artists Association.
The three overseas theater groups are Nakama from Japan , Sweden's Pantomimteatern Theater and the Kabong Puppet Theater from Laos . Vietnam is represented by the Hanoi Youth Theater, the Thang Long Water Puppet Theater and the Vietnam Puppet Theater and the Hai Phong Puppet Theater.
Their productions, which run until June 1, will performed in Hanoi 's Opera House, the Hanoi Youth Theater, the Pupils and Students Cultural House and Hanoi Children's Culture Palace . The actors and actresses will also visit child patients currently being treated in the National Paediatrics Hospital on May 29.
Apart from spotlighting Vietnamese theater, the event will help domestic artists to learn from international colleagues and find out more about children's theater.