The "Ha Noi Days in Moscow" program was launched in the Russian capital at a press conference on July 17.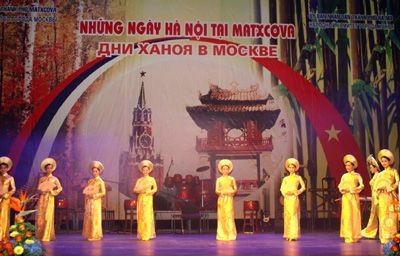 The launch of "Ha Noi Days in Moscow"
Addressing the press conference, Director of the Ha Noi Foreign Affairs Service Ha Van Que affirmed that the multi-faceted cooperation between Ha Noi and Moscow for mutual benefits and development has been constantly developed. The growing ties were further enhanced by the Moscow Culture Days held in Ha Noi in 2001 and the Ha Noi Culture Days in Moscow in 2002.
The "Ha Noi Days in Moscow " program from July 16-23 will include a water puppet performance, a fashion show, a Vietnamese film show, song and dance performances and photo exhibitions.
Seminars to promote Ha Noi-Moscow cooperation in investment, trade and tourism will be held, along with a ground breaking ceremony for the Ha Noi-Moscow Cultural and Trade Center.
Mr. Que said Ha Noi hopes to draw Moscow businesses' attention to urban design consultation and planning, construction of new residential areas and transportation.
Vice Director of the Moscow International Relations and External Economics Service, Vladimir Lebed, took the occasion to confirm that Moscow welcomes Vietnamese businesses and skilled Vietnamese workers to do business and work in the city.