The Lim Festival, known to be the biggest festival of Quan ho folk songs, began on February 14 night but failed to convey the true essence of the original traditional music.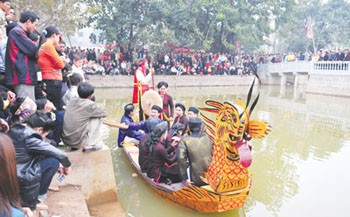 A lien anh stretching out to beg for money from visitors (Photo: SGGP)
Tens of thousands of visitors from across the country have streamed to the festival congesting the roads from very early hours of the morning of the following day.
This year the organization board had asked lien anh and lien chi (male and female singers) not to use  note magnifiers or loudspeakers while performing so as to maintain the specific characteristic notes of the ancient Quan ho songs, said Nguyen Tang Tuc, director of Bac Ninh Province Department of Culture, Sports and Tourism.
However, because of the vast crowds the singers were compelled to use loudspeakers, which clashed and resonated with the sound. Many people thought they could not enjoy Quan ho folk songs at the fair.
Alongside the road from Tien Du District to Lim Hill, many gambling stalls were found operating. The stall owners claimed they had paid VND400,000 a square meter for the space.
Bicycle and motorcycle parking lots around Lim Hill also hiked their prices as they said to have paid the organization board VND1.5 million a day.
Several beggars were along paths to Lim hill. Children were seen looking pitiful and in front of Bao An church, a few elderly people begged for money.
What was more appalling and added to the grimness of the scene, was the sight of lien anh and lien chi begging visitors for money after performing each song. This has badly affected the image of the Quan ho singers.