Vietnam Television in collaboration with Cat Tien Sa Company will now host the UK based 'Got to Dance' talent contest in Vietnam.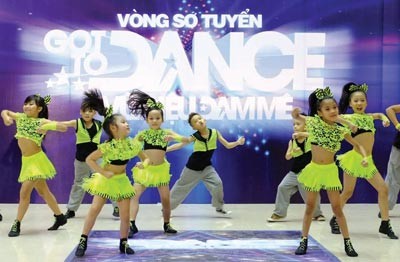 Performances of young contestants in the entrance round
"Got to Dance" is a reality talent dance competition for all age groups and includes all dance forms such as hip hop, belly dance and ballet.
This year, the contest was launched in Vietnam in June and the will take place from September 14 and broadcast every Saturday at 9pm on VTV3 Channel.
The organizers said that in the past three months, hundreds of candidates across the country have registered to take part in the contest. The organizers selected 50 items for the entrance round.
After finishing the entrance round, the organizers will select 28 groups, couples or singles for the face to face round, which will be broadcast live on VTV3 Channel after which the jury will choose 14 groups, couples or singles for the next round.
In the contest, the audiences will enjoy not only impressive performances of contestants but also attractive performances of jury members.
Members of the jury are talent dancers and choreographers from Vietnam and other foreign countries in the fields of hip hop, belly dance, dance sport, and ballet such as choreographer Tran Ly Ly, Dumbo, Alfredo Torres Jureidini, and singer Minh Hang.
The first prize to the best winning contestant is worth VND300 million and a performing contract worth VND 200 million; the second prize is worth VND150 million; and the third prize is worth VND100 million.
'Got to Dance' contest was produced by Shine Media Group and broadcast on Sky One in the United Kingdom for the first time. Since 2009 the contest has been reproduced in many countries around the world such as the United States, Australia, Germany, New Zealand, and the Netherlands.