The ancient town was voted by readers from the world famous magazine "Travel + Leisure".
This is the first time in the history of Google Doodle, the search engine has honored a specific landmark of Vietnam
Google Doodle is special icons, temporarily replacing the Google logo on the Google.com homepage (or Google Vietnamese homepage - Google.com.vn) in order to celebrate major holidays, events, achievements and to honor the characters with their important contributions in many sectors for the community in the country or for humanity.
Since 2003, Google Vietnamese homepage (Google.com.vn) has introduced many works of Doodles honoring Vietnam's typical culture such as traditional holidays such as Vietnamese Teacher's Day, Mid-Autumn Festival, Lunar New Year, National Day, late musician Trinh Cong Son, etc.
The ancient town of Hoi An is located downstream of Thu Bon River in the coastal plain of Quang Nam province, Vietnam, about 30 kilometers from Da Nang City.
Hoi An is also known as an model example for preservation of Southeast Asian traditional ports.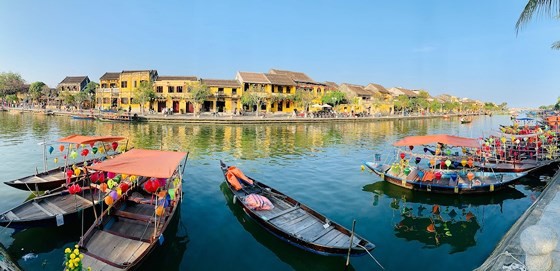 Architectural style of Hoi An is amalgamation of Eastern and Western culture with club- houses, pagodas and temples bearing cultural characteristics of Vietnam, China and Japan and the French architectural style.
The United Nations Educational, Scientific and Cultural Organization (UNESCO) recognized Hoi An ancient town as a World Cultural Heritage on December 4, 1999. The ancient town becomes a familiar destination of domestic and foreign tourists.