Vietnam's Guinness book of records has recognized a book titled "Legend of Quang Tri Ancient Citadel" that includes the names of more than 4,000 martyrs as the country's largest book.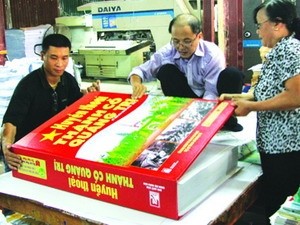 The giant book of Quang Tri ancient citadel. (Photo: Vietnamplus)
The giant book is 1m x 0.7m and was completed in two years by the Center of Information and Communication for Environmental Development, the People's Army Publishing House and the Vietnam Buddhist Sangha (VBS).
For the first time, a book has listed more than 4,000 names of martyrs who laid down their lives in destroying U.S bomb strikes during 81 days and nights in the summer of 1972 in Quang Tri Province.
The book has four parts and includes landscape and historical events of Quang Tri, the destruction of U.S bombs in the summer of 1972, poems and songs honoring jthe Quang Tri Ancient Citadel and soldiers in wartime.
A total of 10,000 copies of the book have been given to martyrs' families and soldiers. The book will be on display at the Quang Tri ancient citadel Museum.
The book is the seventh work in a collection called "Legend of Vietnam" which includes Legend of Dien Bien, Legend of Con Dao, Legend of Truong Son, Legend of volunteer youth, Legend of U Minh, and Legend of Phu Quoc.
The giant book will be publicly displayed in a parade on July 8 in Hanoi before arriving in Quang Tri.