A biggest banh xeo (Vietnamese traditional pancake) will be displayed in Binh Dien Flower Market in Ho Chi Minh City from February 12-15.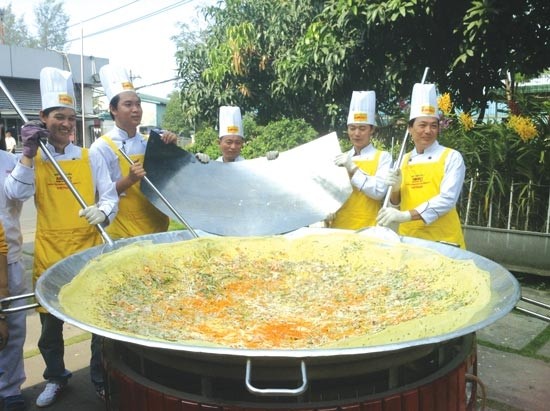 Cooks practice making a giant banh xeo in Ho Chi Minh City (Photo: Sggp)
The giant pancake is expected to set a new record in Vietnam Guinness book as the biggest banh xeo ever made in the country on February 12.
The huge "banh xeo" measures 1.9 meters in diameter and weighs 10 kilograms. It was cooked on a 35-kilogram aluminum pan by 40 cooks.
Another record that will also be set on Feb.12, is the biggest number of cooks for the pancake.
The cake's fillings and toppings include pork, shrimp, minced duck meat, mushrooms, vegetable seedlings, carrots, bean sprouts, mung beans, and spring onions.