2010 marks the 25 years old cultural exchange between Germany and Vietnam. In consideration of this anniversary, The Goethe Institute of HCMC has presented a book exhibition and now is preparing the upcoming film festival.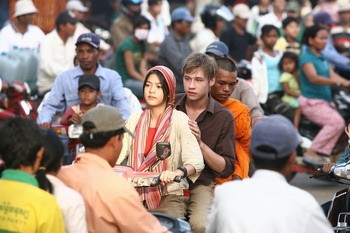 A screen featuring two main characters from the movie Same Same but Different (Photo: Courtesy of Goethe Institute)
The festival, scheduled to visit the five biggest cities of Vietnam, has already made its way through Hanoi, Hai Phong and Da Nang. Ho Chi Minh and Can Tho are the remaining destinations.
Lotte Cinema Diamond of Ho Chi Minh City will show screenings from May 28 to June 1, while Can Tho's movie fans will enjoy the movies one week later, starting from June 4 to 8 at their local Tay Do Theatre.
Films on the festival's docket include John Rabe by Florian Gallenberger; Lila, Lila by Alain Gsponer; Kirschblüten Hanami (Cherry Blossoms) by Doris Dörrie; Krabat by Marco Kreuzpaintner; and Same Same but Different by Detlev Buck.
Audiences can learn lessons from the brave and emotional story of the heroic character John Rabe, veteran of the battles between the Chinese and Japanese rivals in 1937, or sit back and laugh aloud at the love story of novelist David Kern.
All movies contain both Vietnamese and English subtitles.
Tickets can be obtained free-of-charge at the main office of HCMC-based Goethe Institute (18 Road No.1, Do Thanh Compound, Dist.3). For further information about the festival schedule or tickets, please visit the website: www.deutschlandVinVvietnam.de or call (08)3832 6716 (ext.14).