A piano concert featuring French pianist Marie Vermeulin will be held at the French Cultural Centre in Hanoi on February 9.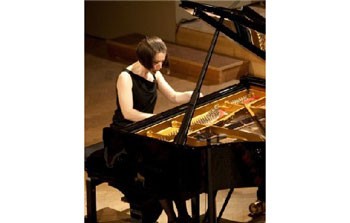 French pianist Marie Vermeulin
Pianist Marie Vermeulin won the 2nd Prize at the International Olivier Messiaen in 2007 and 2nd Prize at the Contest Maria Canals de Barcelone in 2006. She has frequently been invited to perform on various international stages.

She was student of Jacqueline Dussol and Marie-Paule Siruguet at the Music Academy of Boulogne. She was a full time student from 2001 to 2004 at the Lyon Music Academy under the guidance of Hortense Cartier-Bresson and Edson Elias.

At the same time, she received training for 4 years from Lazar Berman, and then Roger Muraro. Therefore she has a deep knowledge of French works of the 20th century.

In December 2009, she was awarded the 'Pro Musicis' prize for bringing music closer to the disabled and the underprivileged who did not have a chance to attend classical concerts.

Tickets are priced at VND120,000. Special discount tickets for members of L'Espace and students' will be priced at VND60 000.