French dance ensemble Derniere Minute will stage their famous hip-hop dance show, Standards, in Ha Noi on Saturday.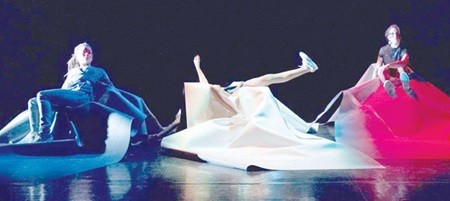 Exploration: Before coming to Ha Noi, hip-hop dance show Standards had performed on several famous world stages. — Photo pierrerigal.net
Choreographed and directed by the ensemble's founder, famous dancer Pierre Rigal, the show has been presented in different countries to acclaim, including at London's Breakin' Convention at Sadler's Wells, The Gate Theatre, Baryshnikov Arts Centre in New York, and Sydney Opera House.
Standards has been described as "a compelling dance-theatre experience, driven by the intense energy of his brilliant young hip-hop dancers and a new soundtrack from Nihil Bordures".
Typically performed on a stage bathed in the red, white and blue of the French flag, nine dancers execute their krump, lock, pop and break moves, "exploring the many meanings of this powerful symbol of identity and how a person can remain individual in a society that asks us to confirm".
When the show premiered in the UK in 2013, The Daily Telegraph wrote: "Pierre Rigal has created one of the most extraordinary dance-theatre shows you're likely to see on a British stage this year."
Recognised as one of the most exciting choreographers, Rigal has taken an unusual route to dance. He was originally trained as an athlete and has degrees in economics and cinema.
It is said that his transition into contemporary dance was influenced by meeting choreographers like Heddy Maalen, Bernardo Montet and Philippe Decoufle.
He founded Derniere Minute in November, 2003, when he choreographed and produced his first piece, Erection. Since then, he has created several other acclaimed productions, including which built up his fame, including Dans la peau d'un autre (2005), Arrets de Jeu (2006), Press (2008), Que serai-je serai-je (2008), Asphalte (2009), Micro (2010), Standards (2012), Theatre des Operations (2012), and Bataille (2013).
The Ha Noi premiere is part of the ensemble's Southeast Asian tour through Malaysia, Viet Nam, Indonesia, and Thailand. The show will take place at the Youth Theatre, 11 Ngo Thi Nham Street, from 8pm. Tickets are available at L'Espace, 24 Trang Tien Street.