The third International Fireworks Competition in the central city of Da Nang drew to a close on March 28 on the banks of the Han River, with France taking first place followed by the US.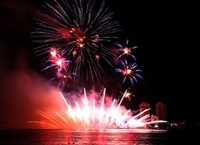 Fireworks light up the night sky above the Han River in the central city of Da Nang. The French team wins the first prize at the International Fireworks Competition. (Photo:SGGP)
The two-day contest concluded with fireworks displays by the two teams, with thousands of eager viewers turning out for the event. And despite a sudden burst of rain, the weather did little to dampen spirits.
The French team impressed viewers with its 20-minute display titled "Huyen thoai Au Co va Lac Long Quan" (The legend of Au Co and Lac Long Quan). Crowds were in awe of the dazzling show, set to music composed by renowned artistic directors Joseph and David Couturier.
The American team also put on a spectacular 24-minute show, themed "Melody of Han River," which lit up the night sky.
Audiences on March 27 were treated to a free and easy Portugal, a Japanese philosophy of peace and hope and a Viet Nam full of vitality.
Three teams from Japan, Portugal and Vietnam, meanwhile, collectively won third place.
The Da Nang Department of Culture, Sports and Tourism said the enormous number of people that attended the event, estimated at 70,000, was good for the city's tourism industry, which targets more than VND1trillion (US$54 million) in turnover this year.