The cake festival featuring variety of traditional cakes of southern Vietnam has been launched in the Mekong delta city of Can Tho from April 15 to 19.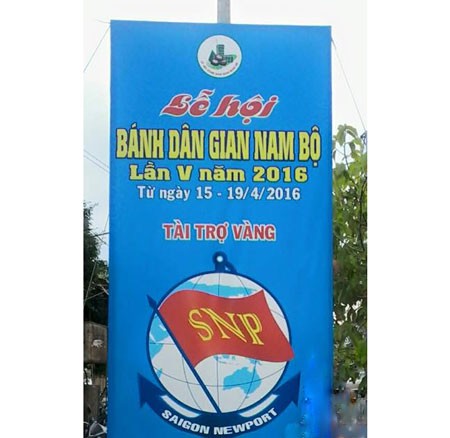 Poster of the festival ( Photo: Uyen Phuong)
This year, the festival was organized in Cai Khe islet, including over 150 food stalls, 80 of which will be reserved for traditional cakes, 50 for regional specialties and handicrafts, and 20 for foreign participants from Laos, South Korea, Japan, France, Indonesia, India, Malaysia and Italy.
The stalls will exhibit and sell around 100 different types of traditional Vietnamese cakes, 66 specialties, 20 traditional drinks, 20 kinds of che (Vietnamese sweet soup), 15 types of noodles, among several others.

In addition, the festival also showcased French sweet cakes, traditional Japanese and Malaysian cakes, Yoka sausage, Korean ginseng, Ganoderma mushroom and food, Italian Bellany gelato ice-cream.
The Department of Culture under the Ministry of Culture, Sports and Tourism organized a competition to make traditional cake in modern time with the participation of 30 units that made cakes with only Vietnamese cereals.
At the festival, 1,500 books titled "Understanding southern traditional cakes" of culturist Nham Hung, depicting the source of southern traditional cakes and how to preserve as well as develop these cakes were sold at the festival.

Musical performance and folk games made the festival more exciting.
Visitors not only enjoyed the good cakes but also watched people making cakes.