The first ever printed book on local food specialties from different parts of Vietnam was released in August by Vietbook, the publisher of many books on Vietnamese topics.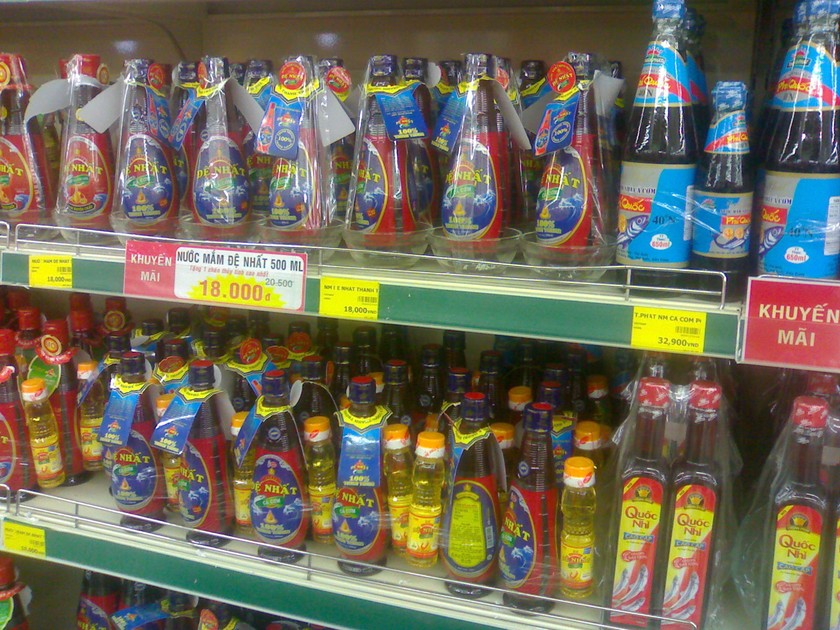 Fish sauce, a specialty of Vietnam, on display in supermarkets (Photo: U. Phuong)
The book titled 'Top Specialties of Vietnam 2012' is aimed for tourists, and is a collection of 14 groups of local delicacies in order of popularity and fame.
Among them, there are two 'Top-50' groups, namely 'Top 50 most famous fruits' and 'Top 50 most famous recipes'; seven 'Top-10' groups of jams and sweets, sauces and spices, bologna, economical fruits, natural specialties; and five 'Top-5' groups of sweet soups, porridge, salads, salted fish, and wholesale fruit markets.
Also released on the occasion was a detailed tourist guide map on various locations of where to find these Vietnamese specialties. Both the book and the map are bilingual, in English and Vietnamese, and available in two sizes, a regular one for display and a handy one for tourists to carry with them.
In the process to collect data for the book, the publisher encountered many difficulties similar to the one reported in the book 'Quang people eating Quang noodle' by Nguyen Nhat Anh, in which the author told the story of a Quang food-store owner in Ho Chi Minh City selling Quang noodles.
Everyday, he received innumerable opinions from Quang people who came to eat in his store on how to cook the recipe. With great patience he carefully wrote down all their instructions, only to throw them away as soon as the customer left.
When asked the reason, he shared that it was not an act of disrespect but that each person had their own experience with the dish, creating countless variations of just one specialty. It was therefore an impossible task to accommodate all their requirements.
Many of the dishes in the 'Top Specialties of Vietnam 2012' book such as pho, Quang noodle, 'khot' cake (a kind of pancake) have so many variations that at any given time it is difficult to know which is the original.
For this, the publisher is calling for the help of local authorities in collecting and finalizing data to create an official original recipe for the dish, which was then printed in the book.