An exhibition entitled "As We Grow Up" was open in Hanoi on November 1 to promote Vietnamese youngsters' awareness and knowledge of gender, love, friendship, and safe sex.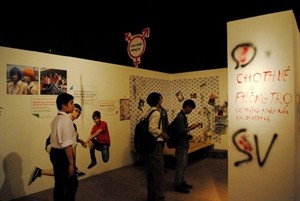 (Source VNA)
The event is a joint effort by the Ministry of Education and Training, the Ho Chi Minh Communist Youth Union, the Vietnamese Museum of Ethnology and the United Nations in Vietnam .
Puberty, Friendship-Love, and Safe Sex come into sharp focus at the six-month exhibition, which are brought to life by real stories and experiences shared by Vietnamese adolescents, their parents and teachers.
In addition to showcasing photos, stories and art works that highlight the topics, the event also features peer-to-peer interactive activities and hands-on information to address sensitive issues and includes in-depth discussion on the related-sexual and reproductive health issues.
One of the innovations of the exhibition is the young people's active involvement in the preparation process from planning, designing, creating contents, collecting information to developing interactive activities. A group of 15 students participated in the preparation process of the exhibition, while 60 other young volunteers will join in interactive activities, providing consultation and answering questions from visitors during the exhibition.
Addressing the event's opening, UNESCO Representative to Vietnam Katherine Meuller-Marin said all Vietnamese children and young people should have access to comprehensive and age-appropriate sexuality education from an early age. She urged teachers and parents to be open to communicate with children and young people about sexual matters to ensure that they receive accurate sexuality-related information.
The exhibition, which will run until next April, is expected to help the youngsters better understand about the issues and lead a healthy lifestyle.