A film-making competition for Vietnamese students will be organized at the National Cinema on 87 Lang Ha Street in Ba Dinh District in Hanoi from September 15.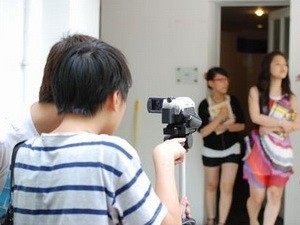 For illustration purpose
Under the theme 'Life Around Us', the competition organizers expect that through the film media, many junior and senior high school students will nurture a positive ideal of living in a world where there is fair competition and a sense of self-esteem to become better people who are rich in emotion and can help build a dream and fulfill their ambition.
Participants will make a three minutes film conveying their thoughts and aspirations of life.
Entries must be subtitled in Japanese or Vietnamese and accompanied with a summary of the script in any of the above languages on an A4 size paper. Each group will have a maximum of three students.
The competition is being organized by the Embassy of Japan in Vietnam, the Ministry of Culture, Sports and Tourism and the Ministry of Education and Training.
First, second and third prize winners of the competition will be invited to Japan to participate in the International Film-making competition for Asian Children, which is being planned for November 24 in Minamiawaji City in Hyogo District of Japan.