A lack of money plagues the Vietnamese film industry, and directors have to rely on collaboration and sponsorship almost exclusively from abroad.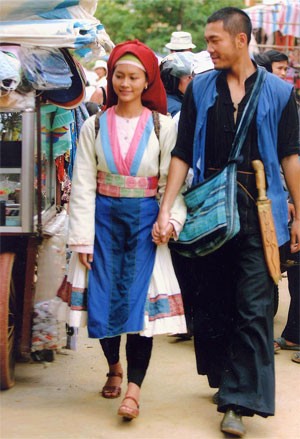 A scene in Chuyen cua Pao (The story of Pao)
Normally, the government gives only VND2 billion per film, so many directors look for finance from Europe and the USA. However, the money they raise from abroad is not great as the donors get mountains of funding requests from all over the world.
As an example, a film from Giai Phong Studio, Trang noi day gieng (moon at the bottom of the well), directed by Vinh Son, was made with the help of 150,000 euros from France's Fonds Sud and 80,000 euros from Fonds Francophone.
The two organizations had previously funded several successful Vietnamese films like Me Thao thoi vang bong (glorious time in Me Thao Hamlet), Thoi xa vang (distant past) and Mua len trau (buffalo boy).
Another example is Trai tim be bong (little heart) from the Viet Nam Film Studio, which was sponsored by Global Film Initiative. The US organization mainly funds cinematic works in developing nations, and Trai tim be bong had to compete with 34 other films from 21 countries to gain GFI's support.
Another director who relies heavily on sponsorship is Bui Thac Chuyen, who directed the foreign-funded Xam (blind street musician) and Tay dao dat (digger) and is currently making a film called Choi voi (solitary).
It takes time and patience to get money from these foreign sponsors. Besides a complete script, a director must submit, in English or sometimes French, a summary, draft and budget along with their contract with the producers, and resumes of the director and the producers. The application should also include photos, a storybook, and preferably a trailer!
The successful Mua len trau (buffalo boy), directed by Nguyen Vo Nghiem Minh, was sponsored by film studios in the USA, Canada and Australia. It took three years to negotiate the financing, and six years to make the film all told.
Before getting the nod from GFI, the director of Trai tim be bong (little heart), Thanh Van, vainly sought finance from many sources to make the film about young people and AIDS.
Finding a sponsor within Viet Nam is even harder, so hard in fact that only one director has ever achieved this feat. Ngo Quang Hai succeeded in getting support from Vido-Tour to make Chuyen cua Pao (the story of Pao). The money was spent on paying a foreign cinematographer, Cordelia Beresford, and finishing the final scenes in Thailand.
Hai's upcoming film, Mua he lanh (cold summer) will be produced by his company, Vimax, if he can raise the money.
The good news for young film makers is that the Ford Foundation has promised to spend US$350,000 over the next three years to support them in their work.