Countless people headed to the Tran temple in Nam Dinh city, the northern province of Nam Dinh for the seal opening ceremony starting on the night of February 13 (the 14th of the first lunar month).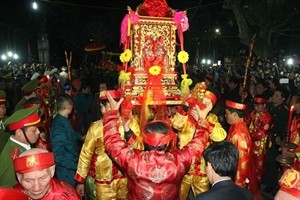 The festival started on the night of February 13 (Photo: VNA)
The ceremony was a re-enactment of a custom dating back to the Tran dynasty (1225-1400), when mandarins of the imperial administration took out their seals to resume administrative activities after the Tet holidays.
It has become a tradition for Vietnamese people to head to the temple to get replica seals in hope for good luck and happiness.
The event started with a procession participated by over 100 local residents to carry the seal from the Co Trach temple, which is dedicated to Tran Hung Dao, the Supreme Commander of Vietnam during the Tran Dynasty, to the Thien Truong temple, where 14 kings of the Tran Dynasty are worshipped.
On the 15th and 16th days of the first lunar month, an array of traditional cultural and sport activities like lion and dragon dancing, Cheo singing (popular opera), Chau Van singing, human chess, wrestling and martial arts performance will be held at the temple.
The same day, at the Tran Thuong temple in Ly Nhan district in neighbouring Ha Nam province, a food-distributing festival was also held to pray for a bumper crop and favourable weather.
During the festival, about 100,000 food parcels, which contain corn, soya bean, and sticky rice - key staples produced by Ly Nhan residents – are to be handed out.
The annual festival in Ha Nam, the event is also to commemorate the great contributions of General Tran Hung Dao (1228-1300) in the fight against the Mongol invaders in the 13th century.
Tran Hung Dao, whose real name is Tran Quoc Tuan, led Vietnamese troops to repel three major invasions of the Mongols, who succeeded in conquering most of Central Asia and Eastern Europe. Tran Hung Dao's triple victories are considered among the greatest military feats in world history and the commander is regarded as one of the most accomplished military tacticians in history.
The Tran Dynasty (1255-1400) ruled during an age of affluence in Vietnam, with significant triumphs against foreign invaders (most famously overcoming three Mongol invasions), outstanding socio-economic development and rich culture.
Nam Dinh was the first residence of the Tran dynasty founders while Hung Ha district, Thai Binh province was the place where the dynasty was founded some 800 years ago.