Fashion designer Vo Viet Chung was awarded a certificate of merit by the People's Committee of the Mekong Delta province of An Giang for his contribution in reviving and promoting Lanh My A, a rare traditional fabric of southern Viet Nam.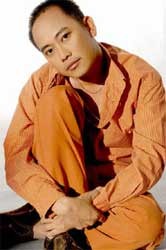 Fashion designer Vo Viet Chung
The designer has presented several collections namely "Mrs. Ba from Viet Nam" (Co Ba xu Viet), Dreaming of Asia (Mo ve Chau A) featuring Vietnamese women's tradition dresses such as ao dai, ao ba ba, ao tu than made of My A silk in the country and abroad.

His "Mrs. Ba from Viet Nam" (Co Ba xu Viet) collection, comprising 15 outfits made of silk and Lanh My A, was voted one of the top five of the showcased collections from 30 of the world's leading designers in the Silk Festival in Shanghai, China last year. The show was broadcast live on Fashion TV and CNN.

Such achievements were enough to get two businessmen from Taiwan and Malaysia to invite him in as a partner in selling his merchandise and developing the Lanh My A fabric and brand.
Vo Viet Chung became the first Vietnamese designer to win an award from UNESCO for his part in preserving My A silk.