A photo book entitled Vietnam nhung neo duong (Vietnam- the ways of the country) featuring more than 500 pictures of well-known female photographer Dao Hoa Nu has just been released by the Arts Publishing House.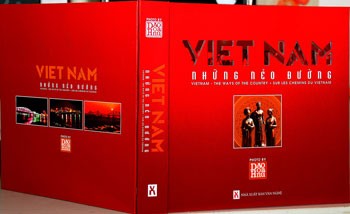 Book "Vietnam-the ways of country"
The 386-page book includes beautiful photos which were selected from thousands of works taken by Dao Hoa Nu.

The pictures of Ca Mau floating market in the Mekong Delta, Uoc Le and Duong Lam ancient villages in the northern region and others describe the land, Vietnamese people's portraits and daily activities throughout the country.

Writer Hoang Phu Ngoc Tuong said that "Vietnam- the ways of the country" is regarded as a photo work of photographer Dao Hoa Nu. Her photography art shows the patriotism, spirituality and long term viability, and attaches with cultural awareness.

The photographer will introduce her photo book at the HCM City Women's Cultural House on October 16.