Japanese director Ippei Yuuki has just returned to Viet Nam to collaborate with Vietnamese director Tran Ngoc Giau in the staging of a play whose title translates 'Enjoying moonlight on the 22nd lunar day'. 
The play will be performed at theater The Gio Tre in Ho Chi Minh City.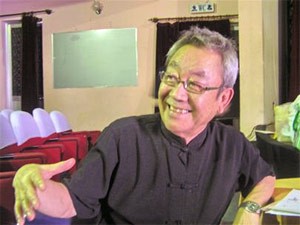 Japanese director Ippei Yuuki
The production, set in a remote village, uses traditional Japanese theatrical elements to bring to life the custom of enjoying moonlight on the 22nd lunar day. Ippei also brought props along from Japan including costumes, kimonos, and drums for the play.
While in town, he paid a visit to the Ho Chi Minh City Cinema and Theater College to take in a play performed by students there on January 8.
Ippei, who is well known as being fastidious and hard working, is a prestigious member of the Japanese Association of Directors.
He made a strong impression with Vietnamese audiences two years ago with his setting of the play with the title translating 'The Evening Crane'.