An exhibition on Southern ancient fine arts is being held at the Ho Chi Minh City Museum to mark Vietnam Cultural Heritage Day (November 23).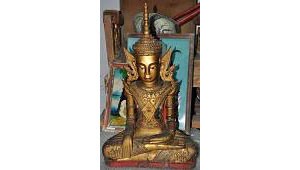 A wood statue of Sakyamuni Buddha belonging to the Khmer ethnic people, on display at the exhibition (Photo: hcmc-museum.edu.vn)
More than 200 artifacts such as objects of worship, sculptures and photographs of old architecture are on display at the exhibition.
 
The exhibition shows the diversified cultures of the Southern regions, the reclaiming process of land for cultivation and the transfer of land deeds between Viet, Hoa, Cham and Khmer ethnic groups.
During that period, folk fine arts played an important role in the spiritual and cultural life of the people as well as influenced habits, customs, festivals, rituals, religious beliefs, arts and literature.
The exhibition will run until March 23, 2012.
On this occasion, Southern Women's Museum in Ho Chi Minh City also introduced to visitors the traditional Ao dai along with its history and adaptation of it in daily life.
Besides this exhibition, many cultural activities marked Vietnam Cultural Heritage Day throughout the city, such as a contest of cultural and historical sites in the city, a painting exhibition at the War Remnants Museum, art performances and water puppetry at the Van Thanh Tourist Area.