A rare exhibition "Wooden antiques of the Nguyen Dynasty" has been opened by the Museum of Vietnamese History in Ho Chi Minh City to introduce the variety and the creativities of a traditional art.

Under the Nguyen Dynasty (1802 – 1945), the production of wooden items owned their well-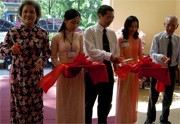 Mr Le Ton Thanh opens the exhibition (Photo:U.Ph)
matched and harmonious style with engraving lines of extreme ingenious details bearing high artistic values. Especially the artisans, handicraft circles of each areas of the country also contributed to their originalities.
There are caskets entitled wood with Mother of Pearl Inlaid produced in early 20th century of collector Nguyen Trong Co, ornate bed in middle 20th century of collectors Le Van Nha and Nguyen Thi Le and various other wooden items.
Le Ton Thanh, Deputy Director of Department of Culture and Information and some directors of museums such as the Art Museum, the Ho Chi Minh Museum, the Ton Duc Thang Museum, and the War Remnants Museum attended the exhibition.