An exhibition of Vietnamese Contemporary Fine Arts is being held at the Emmanuel Fremin Gallery in New York.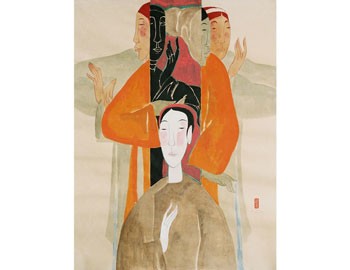 A painting by Vu Thu Hien on the display
The display includes artworks by Vietnamese artists such as Dinh Thi Tham Poong, Vu Thu Hien, Phung Pham, Trinh Tuan, Dinh Hanh and Francoise Ben Arous.
The exhibits introduce the romantic and peaceful beauty of Vietnam. Artists used handmade drawing paper for traditional lacquer painting and applied contemporary artistic techniques in their works, presenting a combination of the past and present, East and West.
The paper is hand-crafted in traditional craft villages, by using a centuries-old technique. The lacquer is distilled from the sap of an indigenous Asian tree, and layered and polished to produce shimmering effects of shade and color.
The display opened on September 5 and will run until September 12. It will be presented in Asian Art in London 2013, London's leading event for all things in the world of Asian Antiques and Fine Arts in October.