An exhibition depicting the close link between the ancient capital of Thang Long and Ha Long Bay over the past 1,000 years of history opened on August 12 in Tuan Chau international resort in the coastal city of Halong, Quang Ninh province.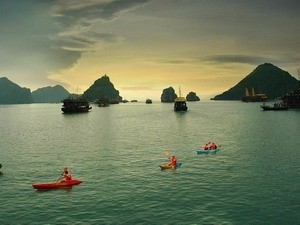 A picture of Halong Bay
The exhibition, coorganised by the Quang Ninh provincial Museum and Tuan Chau Group, is to mark 65 th anniversary of August Revolution and National Day (September 2) and in celebration of the Hanoi's millennial birthday.
The month-long exhibition showcases nearly 300 precious photos and objects founded in Tuan Chau, Quang Ninh province, including pottery, Dai La bricks and a clay tower dating back to from 7 th -10 th century.
Over the past 1,000 years, the influence of Hanoi on Ha Long city to the northeast, as well as the influence of Ha Long on the nation's capital, Thang Long/Hanoi, has created a rich and unique culture for both.
Numerous objects under the Dinh, Pre-Le, Ly and Tran dynasties have been discovered in Tuan Chau city, Quang Ninh province while the Ly dynasty from the Thang Long capital set up the Van Don trading port in Quang Ninh, which opened the way for economic and cultural exchange.