A painting exhibition by sand artist Y Lan opened yesterday in Ho Chi Minh City to honor Vietnam's top-ranking General Vo Nguyen Giap  on his 100th birth anniversary (August 25).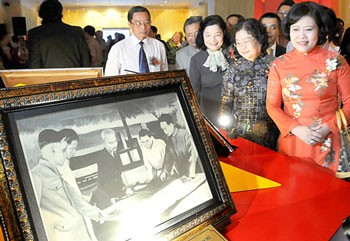 HCM City leaders visit exhibition on opening day. (Photo: Sggp)
The exhibition titled "hundred years of a hero's spirit" features about 100 sand paintings portraying the life and revolutionary activities of the great national hero of Vietnam.

Sand artist Y Lan, has often been described as "beautiful lady who infuses soul into sand" and "lady playing with sand."  She is well known for her creativity with sand paintings on themes like, landscapes, calligraphy, logos, architecture, art forms, religious themes and portraits.

She also has a record of finding the most variety of sand colours to be found in Vietnam, 81 sand colours in all.

The current exhibition at the Ho Chi Minh City Exhibition House at 92 Le Thanh Ton Street in District 1 will run until August 24 and later move to Hanoi from August 18-24.